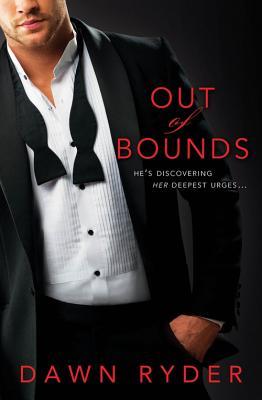 Out of Bounds was an enjoyable read and the first book that I have read by Dawn Ryder. There's plenty of steamy sexiness and the story is a good one. One of the things that I enjoyed the most about this story is the fact that Sabra is no shy, demure, blushing woman who doesn't know her own mind. Despite wanting to move forward with her career, Sabra recognized that her attraction to Tarak could lead to something even more fulfilling. Although both Tarak and Sabra know that office romances, especially between employer and employee are often disastrous they decide to take a risk. The possible negative consequences for Sabra leads to Tarak offering Sabra a compromise that she just couldn't turn down.
There were some parts of the book that seemed a little disjointed and some scenes that I just didn't like. There were some references to Tarak's Apache heritage that I didn't particularly like and thought could have been left out all together. For example, Sabra tells Tarak "The first time I saw you, I thought you should be wearing a headband, like your ancestors." As well as when Sabra says that Tarak looks "like an echo from the last century." Now I know that was supposed to be her letting Tarak know how attractive he is to her, but that just didn't work for me. I half expected her to ask him to don a loin cloth and hold a tomahawk. That was just not sexy.
The secondary characters in Out of Bounds, namely Celeste and Nartan are interesting and are surely being set up for book 2. Celeste is Sabra's best friend who has survived an awful marriage and is gun shy when it comes to men, especially men with money. While Nartan is Tarak's best friend who will surely provide a challenge for the cautious Celeste. I will definitely be looking for their story down the line.
**I received a copy via Netgalley/Sourcebooks Casablanca in exchange for an honest review**
Power may be best when it's shared...
He's used to dominating...
Tarak Nektosha is a self-made man, against all odds. He accomplished that by making sure he's the one in charge, both in the boardroom and in the bedroom.
She's taking her power back...
Sabra Donovan has ambition to spare and energy to burn. So what if her last lover was a disappointment? She's never going to be anyone's plaything ever again.
Sabra's outstanding performance at a corporate photo op attracts Tarak's attention, and the lines begin to blur. What happens when the one on top surrenders and the one used to obeying begins to call the shots?