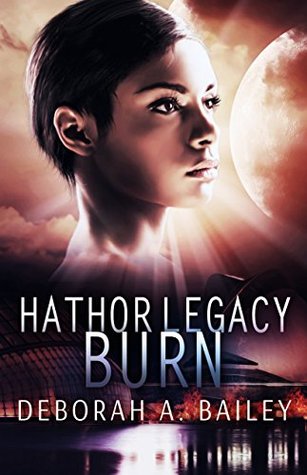 IR fantasy romance is free at Amazon right now! These do not seem to be stand alone books, however book 1 Hathor Legacy: Outcast is a free to borrow book if you signed up for Kindle Unlimited.
Synopsis:
Book Two of the Hathor Legacy Series
On the planet, Hathor, an old threat re-emerges that may destroy the fragile alliance between the Guardians and Novacorp. When Nadira is called to investigate a rash of fires throughout the city, she discovers the Deshtu, another group with PSI powers who have been purposely kept in the shadows.
Working to uncover the source of the fires, Nadira learns the brutal truth about the origin of the Guardians. The Guardian Elders have plans to make Nadira more powerful, and she may be forced to sever her psychic connection to Jonathan Keel.
When an unexpected ally gives Jonathan information about the Deshtu that connects them to the fires, he becomes a convenient scapegoat for the opposing factions. Nadira puts her life on the line to solve the crime, while the Elders make their move to remove Jonathan from her life forever.
As time runs out, the Guardians prepare for a clash with Novacorp that could plunge the planet into chaos, and a final betrayal forces Nadira to risk everything to save herself and Hathor.
Hathor Legacy Series: