This is a 99 cents paranormal bargain bundle.
Contains:
Hidden Talents (Hidden, #1)
Resurrection, NY is America's only supernatural friendly town, built on an outfolded pocket of Faerie. Werewolf cop Adam Santini is sworn to protect and serve all of Resurrection's races - including unsuspecting human Talents who wander in from Outside.
Ari stumbles into Adam's town from the Big Apple. She's hot on the trail of a mysterious crime boss who wants to exploit her telekinesis for his own evil ends. If she can't get Henry Blackwater off her back, she and her two most trusted friends in the world had better kiss the decent life they've built for themselves goodbye.
Ari's mission puts her on a collision course with the hottest cop in the RPD. Adam wants Blackwater too, but mostly he wants Ari. She seems to be the mate he's been yearning for all his life, though getting a former street kid into bed with the Law could be his toughest case to date.
When biology knocks boots with justice, more than bad guys go up flames.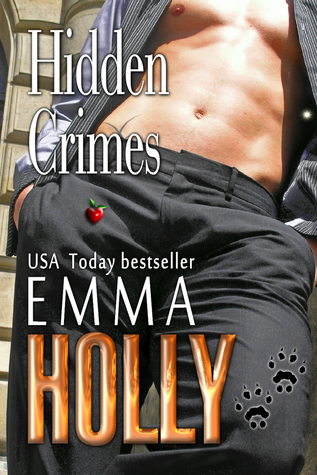 Hidden Crimes (Hidden #2)
Cats and dogs shouldn't fall in love. Like any wolf, detective Nate Rivera knows this. He can't help it if the tigress he's been trading quips with at the supermarket is the most alluring woman he's ever met—sassy too, which suits him down to his designer boots.
Evina Mohajit is aware their flirtation can't lead to more. Still, she relishes trading banter with the hot werewolf. This hardworking single mom hasn't felt so female since her twins' baby daddy left to start his new family. Plus, as a station chief in Resurrection's Fire Department, she understands the demands of a dangerous job.
Their will-they-or-won't-they tango could go on forever if it weren't for the mortal peril the city's shifter children fall into. To save them, Nate and Evina must team up, a choice that ignites the sparks smoldering between them . . .
Hidden Depths (Hidden #3)
James and Olivia Forster have been happily married for many years. A harmless kink here or there spices up their love life, but they can't imagine the kinks they'll encounter while sneaking off to their beach house for a long hot weekend.
Anso Vitul has ruled the wereseals for one short month. He hardly needs his authority questioned because he's going crazy from mating heat. Anso's best friend and male lover Ty offers to help him find the human mate his genes are seeking. To Ty's amazement, Anso's quest leads him claim not one partner but a pair. Ty would object, except he too finds the Forsters hopelessly attractive.