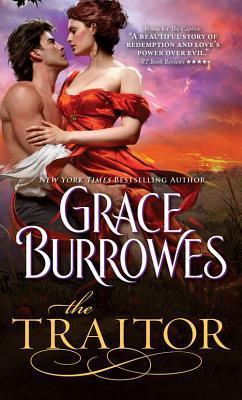 The Traitor picks up where The Captive leaves off and we get the story behind Sebastian St. Claire. Burrows had her work cut out for her in turning the despicable St. Claire into a hero that readers could embrace and enjoy. Sebastian does things that are hard to swallow and justify, however it all ends up being explained pretty well. Sebastian is a complicated hero who had to make difficult choices and ends up suffering the consequences. There are lots of people out for revenge and Sebastian has to defend himself often.
I loved Lady Freddie, Sebastian's aunt, who doesn't hold her tongue and isn't afraid to speak her mind. Milly, Sebastian's love interest is another interesting female character. Stronger and smarter than she is given credit for, Millie ends up being Sebastian's greatest supporter. After everything that Sebastian has endured he is beginning to give up, but after Milly comes into his life he begins to see that there just may be a reason for him to continue to fight and survive. Milly isn't afraid to fight with or for Sebastian and is just what he needs to keep going.
The Traitor is a well written historical romance with plenty of intrigue, plot twists, and betrayal. This was a great continuation to the Captive Hearts series.
As a young boy, British-born Sebastian St. Clair was abandoned in France and forced to join the French army in order to survive.
Now that the war is over, he has returned home to his beloved England, and is determined to live a quiet life as a country gentleman. He believes that his wish is about to come true when he begins to fall for his elderly aunt's lovely companion, Miss Millicent Danforth.
But the French are not quite ready to let him go, and they've devised a devious plot that could destroy everything that Sebastian holds dear. He will have to use all of his wits if he plans on escaping this scheme with his life…and his love.
The Captive (Captive Hearts, #1) You can read my review

here

.
The Traitor (Captive Hearts, #2)
The Laird (Captive Hearts #3) Due to be released September 2nd