Books 1-3 of the Unfinished Hero Series are on sale for 99 cents each! Grab your copies now if you don't already own them! Book 4, Deacon, is not on sale but it's a very reasonable $3.99.
Knight (Unfinished Hero, #1)
Anya Gage has learned that to get anything good in life, you have to work for it. She has no expectations, no dreams.
Then she finds herself at a party where she doesn't want to be and she meets Knight.
Knight Sebring knows who he is, what he wants and what he likes. And he gets it. But he never expected something as sweet as Anya Gage to wander into his bedroom during a party he did not expect to be having to borrow his phone.
Knight tries to leave Anya to the life she deserves of white picket fences and a man who watches football on Sundays – good, normal and clean. But when Anya comes to his nightclub and finds herself in a situation, he knows someone has to look after her, he can't fight it anymore and he decides that man will be him.
Knight teaches Anya that, just as with the bad, in life you should also expect the good. And he teaches her this by giving it to her.
But Knight has a dark past and just as he desires Anya for exactly who she is, he fears when she finds out exactly the man he has become and always intends to be, she'll leave him for good, normal and clean.
WARNING: This book is an ADULT EROTIC romance featuring an anti-hero. This novel contains explicit sex scenes and language. The hero in this novel lives a life by his own code with no apologies. He is not your "normal" hero. If you do not enjoy the above, this novel may not be for you.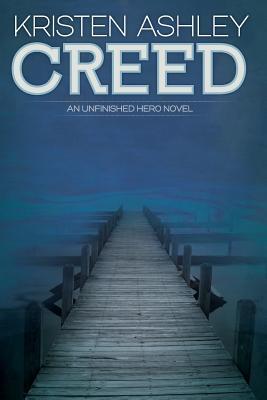 Creed (Unfinished Hero, #2)
Way too young, eleven year old Tucker Creed and his six year old neighbor, Sylvie Bissenette, find they have something awful in common. Creed then decides he's going to do everything in his limited power to shield his Sylvie from her ordeal. So he does and Creed and Sylvie form a bond that grows and blossoms with their ages.
They plot to leave their lives behind, the town they live in that will hold them down and the histories they share that, unless they break free, will bury them. Sylvie goes to their special place, Creed never shows and she doesn't see him again until it's too late.
With Creed gone, Sylvie is forced to endure a nightmare and do the unspeakable to end it. To deal, she develops a hard shell with sharp edges that very few can break through. So when Creed again finds his Sylvie, he discovers the girl he loved is locked away and he has to find his way back into her heart without getting shredded in the process.
Raid (Unfinished Hero #3)
Hanna Boudreaux has lived in the small town of Willow, Colorado all her life. The great-granddaughter of the town matriarch, she's sweet, cute and quiet.
Too quiet.
Hanna has a moment of epiphany when she realizes her crush for forever, Raiden Ulysses Miller, is not ever going to be hers. She sees her life as narrow and decides to do something about it.
Raiden Miller is the town of Willow's local hero. An ex-marine with the medal to prove his hero status, he comes home, shrouded in mystery. It takes a while but, eventually, Hanna catches his eye.
But after all these years of Raid and Hanna living in the same town, the question is, why? Is Raid interested in Hanna because she's sweet and cute? Or does Raid have something else going on?
Deacon (Unfinished Hero #4)
Deacon has an ugly history, a history that broke him, leaving him a ghost of a man. Out of necessity, he left the normal world to descend into the criminal world and found he fit. So he stayed. Cold as ice and living off the grid, Deacon has no intention to connect, not with anyone.
Then he returns to some remote cabins in the Colorado Mountains and finds they have new owners. One of them is Cassidy Swallow, a young woman willing to work hard to live her quiet dream in a house by a river surrounded by aspen and pine.
Suddenly, Deacon finds he's at war. Cassidy's pull for him to connect is strong. He fights it, but he loses, always coming back for more. But when he does, he gives her nothing.
From the first time she sees him, Cassidy knows Deacon is dead inside. She knows he's the kind of man who could destroy a woman. But one night when Deacon's control slips, Cassidy takes a chance.
He might break her. He also might be her dream come true.