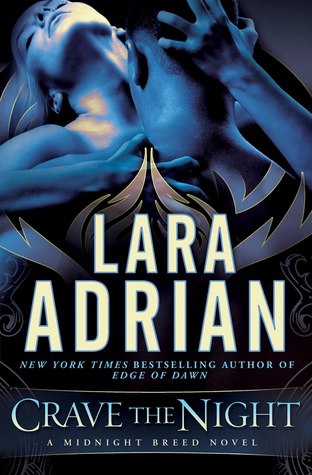 Before reading Crave the Night I had only read Kiss of Midnight, which is book 1 in the Midnight Breed series, so I had a basic knowledge of the world Adrian has created with her Midnight Breed series. However, now that I have read Crave the Night I now want to go back and binge read this entire series. Not only did Adrian draw me into this story quickly and completely, but now I am left with the knowledge that I have deprived myself of many good reads in this ongoing series.
In Crave the Night we are given the tumultuous story of Nathan and Jordana. Nathan spent the first 13 years of his life being mercilessly trained as killer and deprived of any compassion or softness. Being part of the Order is now Nathan's only priority and since his last encounter with the privileged Jordana, he can't seem to shake his attraction to what he feels he shouldn't want. For Nathan, Jordana represents everything that is good and respectable, something that he feels he doesn't deserve. Although he doesn't want to see Jordana tied for eternity to someone that she doesn't love, he doesn't see himself being good enough for her.
Jordana has grown up the adopted daughter of a wealthy Breed leader and has wanted for nothing her entire life. Her father has her life planned for her including the Breed male that he wants her to be bound to. However, Jordana does not truly want the life that has been planned for her. As events unfold, Jordana finds that not only does she want to change the course her life seems to be taking, but she may not be who she thought she was. There's danger coming for Jordana, and the key to her safety may lie with Nathan. The danger she faces is unexpected and very personal.
Crave the Night has everything that I wanted in a good paranormal read. Nathan is the dangerous, damaged, but honorable male who will do anything to protect his people and those he cares for. Jordana is a smart and courageous heroine who isn't afraid to break away from what's expected of her and to reach for what she truly wants. Most important of all, Crave the Night has a well told story with a strong plot line that will easily transition into the next story. I definitely have plans to play catch up with this series. Crave the Night is going on my paranormal favorites list!
**I received an ARC in exchange for an honest review via Netgalley/Random House Publishing Group - Bantam Dell**
Born and raised to be an emotionless killing machine, Nathan is one of the most lethal Breed vampires in existence. A key member of the Order—an elite group of warriors charged with protecting both mortals and vampires—Nathan executes each mission with flawless precision and a total lack of mercy. Now he must pursue a powerful, hidden enemy. But Nathan's hard discipline and training are no match for the fierce pull he feels toward a young woman he has no right to desire—a woman of wealth and high social standing who has long been promised to another Breed male, and who may also prove to be the key to rooting out Nathan's elusive quarry.
Jordana lives a life of glittering privilege as a member of a prominent Breed family in Boston. Surrounded by fine things and fawning admirers, Jordana wants for nothing—until she crosses paths with a dark, intense warrior from the Order and finds herself swept into an impulsive, sizzling kiss that neither of them will forget. As much as she tries to deny her deep feelings for Nathan, Jordana cannot resist the craving to be near him, to break through his forbidding walls and see the man he truly is. But getting close to Nathan will thrust Jordana into a treacherous new world, forcing her to risk all she has and all she knows about herself and her past. And loving this seductive man could be the most dangerous temptation of all.